AUCSA
Board Elections Information
1 Office, 7 friends, Infinite Memories
Here, you can find any official information regarding the elections of the AUCSA 2023-2024. Every year in May, the AUCSA Board of the next year is elected by the General Assembly (GA). This event is accessible for all members of the AUCSA. During the GA, all candidates may speech and answer questions from the members. A proposed board is then presented by the Elections Commission, after which the voting procedure starts. The candidate with the most votes will fill the board position in the next academic year. This year's GA will take place on May 14th.
For any additional information about the Elections procedure, keep scrolling!
On March 9th and 14th, join our Info-Sessions to learn more about the Board life and responsibilities! The whole AUCSA Board will be there, as well as the Elections Commission.
From March 12th to 30th, there will be time for

 

Coffee Dates. This is your chance to talk to any current

 

AUCSA

 

Board member one-on-one. Ask all the real questions and get a free coffee! Send your preferred date + time + member(s) to

 

info@

aucsa

.nl

 

to schedule a coffee date.
On March 16th, join our Open Meeting at 6 pm in the AUCSA Office. Check out what a regular Board meeting looks like and feel free to partciipate if you want.
On March 28th, join our informal Couch Session during lunch time in front of the AUCSA Office. Come chat with the current board and ask any questions you might have before the applications deadline.
On March 31st, is the

 

Applications

 

Deadline. Send your CV and motivation letter (max. 1000 words) to

 

elections

@

aucsa

.nl. The letter needs to answer the following questions:

Why are you applying for the 

AUCSA Board

?
If you are applying for a specific position, why are you applying for this position and what makes you the right person for it?
What would the 

AUCSA

 contribute to you personally?
What would you like to improve about the association within 5 years?

After reviewing all submissions, the EC will invite you for a 1-hour

 

Interview.
Once all interviews are over, you will need to write and submit your

 

Election

 

Statement

 

to

 

elections

@

aucsa

.nl, which will then be published on the AUCSA website.
On May 3rd, show your best side and most innovative ideas at the

 

Elections D

ebate.
On May 14th, vote and get voted for at the

 

Elections

GA.
AUCSA Elections Countdown
***If you missed the Elections Info Sessions, check them out here!
Versailla - President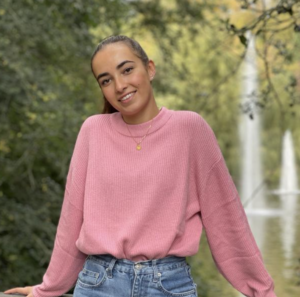 Hello everyone, my name is Versailla and I am thrilled to announce my candidacy for President of the AUCSA. I am a second year at AUC currently studying pre-med and moved here from Canada! Some of my favourite things include playing football, spending time with friends and the colour green.
I am deeply motivated by the opportunity that President offers to strengthen the sense of community within the AUCSA. Whether it be through representation, support, or guidance, I am eager to work with my board to pave the way for all AUCSA students to thrive. My goal is to create an inclusive and supportive environment that encourages personal and collective growth, and I am committed to working tirelessly toward achieving this vision.
Throughout this year I have been a part of many projects allowing me to develop a strong proficiency in managing a high mental workload while juggling multiple tasks. For instance, I have been a part of Catch, Dormfest, Aucafé, UCSRN, and Winter Formal whilst staying on top of academics and still enjoying socialising and sports, thereby giving me confidence that I will excel in the management of this position.
I am excited about this opportunity to continue developing my leadership skills and to work alongside such a talented and passionate team of individuals. I look forward to contributing to the community by continuing to build an atmosphere brimming with enthusiasm and positive energy within the AUCSA community. I am confident that I can bring my skills to the table as an effective team member, and I look forward to learning from my colleagues as well as being a fundamental contributor to the AUCSA community as its next President. Thank you for considering my candidacy and feel free to ask me any questions online or when you see me!

Marcello - Secretary
Hi there! My name is Marcello (he/they), and I am running for Secretary of the '23-'24 AUCSA board! I am an Italian-American second-year Humanities student and lived in France for half of my life. I enjoy running, caring for my plants, and grabbing coffee with friends! My parents are both opera singers, so growing up backstage with people from various walks of life, I saw how a community needs nurturing. As a facilitator for social life at our lovely college, AUCSA takes commitment, motivation, and drive to sustain our community. Caring for our community makes me enthusiastic to join the AUCSA board.
This past year, I was the co-chair of the Student Council at AUC. This experience has provided me with the tools necessary to be a student representative and familiarity with the dedication required. While the actual tasks of both boards differ, the Student Council allowed me to work with a board closely for the whole year, and better the lives of students, as I will on AUCSA.
The AUCSA Secretary position will change with the new External Relations Officer, and I will work with my fellow board members to adapt both roles to ensure the AUCSA continues strong. If elected, I will strive to increase student engagement in various ways. Getting involved in AUC takes many forms, and as Secretary, I want to increase the transparency of the AUCSA board. The implementation of a feedback system would also make sure students' needs are listened to. A more formal way to gain insights from students, such as a bi-semesterly form, would help ensure productive communication beyond the General Assemblies. AUCSA should listen to its community and adapt how it functions accordingly.
The AUCSA is constantly changing, and I am ready to guide these changes and ensure our wonderful community thrives.
Tom - Treasurer
Hi, I'm Tom, and I'm running to be next year's AUCSA treasurer. Over the past academic year, I've really come to treasure my roles as head of logistics for TEDxAUCollege, and event manager for AUCafé. This is why I'm running to be on the board; to further develop my passion for organising events and the enjoyment I receive from being involved in the community. As a deeply social and solution-oriented person, I am well suited to effectively serve the community.
My vision for the AUCSA is relatively simple. Specific to the role of treasurer, I am to make the process as simple and collaborative as possible. I don't aim to be the person that checks your budget, but one that collaborates with you to form one as effective and efficient as possible. Furthermore, I want to make AUCSA events more accessible. I will aim to optimise events to be as cheap as possible. No student should have to choose to not attend an event due to an unattainable price. Less specific to my role, I want to diversify the events offered by AUCSA. Currently committees often struggle with getting enough attendance at their events, catering to a larger slice of the AUC community would help alleviate this. I also believe there is immense value to be found in collaborating more closely with other UCs. Not only in diversifying the opportunities offered by the AUCSA, but also because it would help AUC students create a network of friends around the country, giving them something akin to the wide circle of friends they might have back in the countries they grew up in.
Austeja - CAO
Hello, beautiful people!! If you ever wondered how AUC can become the greatest school out there by and for students, keep on reading. My name is Austėja Varytė. I'm a first year social sciences student from Lithuania and, as of this statement, a candidate for next year's AUCSA board! 
I believe that for an international student at an international school, feeling at home while being away from home is crucial. Student social life is, therefore, a big contributor to ensuring everyone at AUC finds their place. I have always been fascinated by the variety of committees a rather small college like AUC has to offer. That is why I am running for the Committee Affairs Officer's (CAO) position.
My goal is to provide committees with reliable resources, encouragement and the hype that they deserve, as well as help maximize the outreach that they have. As a CAO, I want to see all of those out-of-the-box, exciting, community-building events that our creative committees can come up with and I will be there to ensure that. Let's make some memories for AUC next year!
Bonus: I vow to create and patent an empowering AUC chant that every University College is going to be jealous of.
Josie - CAO
Hello everyone! I'm Josie, a second-year social science major from Germany, focusing on international relations. I am thrilled to be running for the position of CAO and would like to share with you my vision for the AUCSA. As the Head of Culture of the UCSRN board, I gained valuable experience in event organisation and communication with various committees. Through this, I have come to appreciate the importance of bringing people together and creating a strong sense of community through inclusive events. I am committed to continuing this work and improving the social life of AUC on a broader scale.
Throughout my time at AUC, I have been struck by the unique character of our community. We are a diverse and talented group of individuals who value self-awareness, creativity, and inclusivity. These qualities are essential to our growth and success as students, and I believe it is our responsibility to actively invest in them. As CAO, I will work to encourage and motivate students to take advantage of the many opportunities AUC offers, regardless of their background or experience. I believe that everyone should feel a sense of solidarity, comfort, and recognition within our community, and I am committed to promoting an approachable and empathetic atmosphere throughout the AUCSA.
Growing up with three older siblings, I learned the value of perseverance, resilience, and a connection to those around you. I am confident that I can bring these qualities to the position of CAO and work collaboratively with others to enrich and broaden our community. I am excited about the prospect of serving as a CAO and am committed to making AUC a place where everyone feels valued and included. 
Feel free to reach out to me with any questions you may have 🙂 
Lea - CAO
Heyy:) My name is Lea. I am a first-year science major from Germany and I am running for the position of CAO for the AUCSA board 23/24.
Since I arrived at AUC and interacted with so many different committees I have been interested in getting to know how the organization of such a diverse and colorful network works. Joining the AUCSA board gives me the opportunity to be right in the heart of this network and allows me to experience and contribute to it. At the moment I am involved with SusCom and some friends and I recently revived the ART committee. I truly enjoy planning and seeing those plans come to life through teamwork. 
I believe that joining the AUCSA board as CAO gives me the opportunity to utilize and share the communication and teamwork skills that I acquired in the past during CCT work but also through previous experiences during high school. At the same time, I will get the chance to gain so much knowledge and skills from all the people with that I will interact.
By being involved with SusCom in the past months, I got the chance to see where there still is an improvement toward a sustainable campus and student life at AUC. I am keen on working with the institution and our CCTs to ensure the best possible sustainable impact we can achieve as a community. 
I am excited to take on this responsibility and contribute to this beautiful community. I can't wait to get to know so many new people within and outside of AUC and to work with such a diverse team of like-minded people to give back to the community that has provided me with so much during my first year.

Matisse - CAO
Hi! My name is Matisse Bloem, and I am running for the CAO position. I am Dutch/Indonesian, grew up in the United States, and am currently a second year Humanities student with a focus on Film. This year I have become more involved with the AUC community and have enjoyed every second of it. I now want to take part on a larger scale in order to get more people involved and improve their AUC experience.
This year I joined Cuisine as treasurer, and after having a taste of being part of a committee, I knew I wanted to be more involved. I joined UCSRN as part of the treasury team and became logistics manager of Dormfest, alongside my role as student ambassador. These experiences have taught me important skills, such as organization, communication with externals, and the importance of clear communication within a team, which I would bring to the AUCSA board.
As CAO, my main goal is to get more people involved in the AUC community and the various events that our committees hold. I think many people are not aware of what the AUCSA is and does, as well as how it and its committees work, and I believe that by being more transparent with the student body it is possible to increase engagement. I also want to make collaboration and communication between committees more streamlined. By acting as a mediator as the AUCSA, I believe it would improve the operations of the various CCTs. I also want to increase contact with other UCs, as it is something I have enjoyed and I think would be a benefit to students.
I would be delighted to have the chance to improve the AUC community and I wish good luck to all other candidates!
Uma - ERO
Hello! My name is Uma, I am a Belgian second-year social science major, focusing on international relations. I love everything music-related, from playing instruments to attending concerts and festivals. Besides that, I really enjoy working with people and organizing events, as it gives me the opportunity to contribute to my community and meet new people.
I am running for the position of External Relations Officer (ERO), which is a new position within the AUCSA Board. I believe taking on a brand-new position would definitely be challenging, but I believe I have the right background and motivation to take on this task. Throughout the past two years at AUC, I have been involved in the Newscast Team, AUCafé, the UCSRN Team, and the Ambassadors Team. Being a part of these amazing teams has given me the necessary insights into how the AUCSA community works and helped me acquire the right skills to be a great team player. Moreover, as part of the UCSRN and Ambassadors Team, I gained experience representing AUC and working with external parties, like other student associations, universities, and prospective students.
One of the things I discovered the past year is how valuable external partnerships can be for our student association. As ERO, I would focus on making the AUCSA and its events even better by exchanging knowledge with other (university college) student associations and developing partnerships with external venues. However, the main reason why I decided to run for ERO is that I have experienced how much fun it is to collaborate with external parties and I want to give our entire community the opportunity to experience this by facilitating external events and relationships.
Finally, I am incredibly excited about all the fun opportunities and countless new skills being part of the AUCSA Board would bring me.

The Elections Commission (EC)
The 2022 Elections Commission (EC) is composed of one ex-AUCSA Board member and two independent members. Together with the current AUCSA Board, the EC is responsible for organizing the Elections of the new AUCSA Board of 2023-2024. The EC reviews the incoming applications, conducts interviews with the candidates, and asks specific questions during the Elections Debate.
Based on all applications, interviews, and performances during the debate, as well as through their own expertise, the EC will propose a Board during the Elections GA. This proposed Board consists of the candidates they deem the best fit for the AUCSA Board of 2023-2024, both in terms of their individual skills and our perception of how they would work together.
The current AUCSA Board is solely involved with the promotion of the elections timeline and procedure. They do not have access to the motivation letters and have no influence on the interviews, debate and proposed Board.
Testimonials from previous Boards