Amsterdam University College
Date: April 22nd 2023, 9 a.m. – 10 p.m.
Address: Science Park 306, 1098 XH
Afterparty tickets HERE ↓
The UCSRN Tournament is a friendly competition in which all the University Colleges of the Netherlands compete in different disciplines to obtain the famous inter-UC cup! The tournament is the biggest inter-UC event of the year and is hosted by a different University College each year. After winning the tournament last year, Amsterdam University College will be hosting the event this year at their campus in the Science Park in Amsterdam! The tournament will include a wide variety of disciplines, ranging from cultural activities such as dance and painting to sports activities like football and running! Besides those, there will also be many social events open to both participants and spectators that do not count toward the final score of your UC!
This website will provide you with all the infromation needed for the day, as well as the sign-up sheets to get hosted! Sign-ups and tickets for the tournament itself will go through each UC this year, so please refer to your own UC for more information on this subject. Do not hesitate to reach out to us via our e-mail or on Instagram if you have any questions or concerns, and don't forget to follow our Instagram linked above to stay up-to-date with everything tournament-related, as well as to get hyped for the Tournament! We cannot wait to see you all on the 22nd of April, but until then: best of luck with all your preparations!
In this year's Tournament, you will have to prove that your UC is the bravest in the Netherlands to save The Enchanted Forest! Find your inner warrior, grab your weapon, and get ready to battle for the famed Inter-UC Cup in this year's edition of the Tournament:
THE ENCHANTED FOREST
About the team
Welcome! Meet our team for the 2023 UCSRN Tournament!
Tickets and sign up information
This year, there will be no individual participant sign-ups or ticket sales, but rather, we will have sign-ups through each UC. Please refer to your own UC for more information on signing up as a participant. We can't wait to welcome you on our campus and kickstart the tournament! You can find all options to participate in the tournament below:
Participants – Purchase a ticket for €8.50 (excl.service costs) if you want to represent your UC in any of the cultural or sports events! The participant ticket includes participation in the event(s) you signed up for, access to all available facilities, and a catered lunch. Ticket sales and sign ups for participants will go through each UC this year, so reach out to your own UC to sign up!
Visitors -If you are not competing in any of the cultural or sports events, you are still free to come to watch the tournament and join the social events! You can buy the free visitor ticket through the ticket button at the top of the page!
After party – Purchase a ticket for €3,00 (excl.service costs) if you want to come to the after party and enjoy a night of dancing, bonding, and maybe even celebrating your victory! After party tickets are on sale through the ticket button at the top of the page!
Hosts (only for AUC students) – Sign up as a host if you want to provide housing for 1-3 students attending the UCSRN Tournament from the 22nd until the 23rd of April! Hosting is a great way to meet new people, contribute to inter-UC bonding and make friends for life! As a thank you, all hosts will be provided with a free after party ticket!
How does hosting work?
Sign up through this link.
You will be paired up with your preferred number of students, who are all attending the tournament
Get in touch with the student(s) and provide them with a sleeping place from April 22nd-23rd
Attend the afterparty together and make friends for life! 
Volunteers (only for AUC students) – Do you like helping out at events, running around and meeting new people? Then don't hesitate and sign up to become a volunteer through this link.
Official Rulebook
Official Tournament Rules
Sports Activities
NB: The referees will be players from other UCs that are not playing, so every participant can be expected to be asked to be a referee for another game. 
NB: Team sports are mixed gender, at least 2 of each genders on the field at all times 
Cluster 1: Sports
Rules + equipement
Participants

Running 5k

(men/women)

Rules

Male and female runners will run in the same race, but their scores will be counted separately.

Runners that make shortcuts are disqualified.

A bell sounds when runners start their final kilometer (or lap).

Unsportsmanlike attitude will not be tolerated and will result in disqualification

!! Will not be on a regular athletic track

Min: 1

Max: 1 (per gender)

4x100m Relay

Rules

There must be 2 male and 2 female runners in each team.

Runners have to pass the baton in the designated area. If the baton is not passed in this area, the team will be disqualified.

All runners from other teams must stay out of the designated area to avoid confusion (teams will be going one at a time)

If the baton falls from the hands of a runner during the race, the participant may pick it up and continue the race

Unsportsmanlike attitude will not be tolerated and will result in disqualification and point deduction for the UC main points

!! Will not be on a regular athletic track

Min: 4

Max: 4

Mixed genders

Volleyball

Rules

Outdoor (except if it rains, we will notify all volleyball teams 1 week in advance if it changes)

4v4, at least 2 male and 2 female players on the court  at all times (6v6 is played inside because of weather)

Indoor volleyball rules apply

: ball may be played off the net during a volley and on a serve, hitting the line

means the ball is in. A ball hitting the antennae, any of the net cables or the referee is out

Any body part is allowed to touch the ball, but players may not hold the ball

A player cannot block or attack a serve inside the 3 meter line. After a serve players may switch positions

A referee will be present at all times

The net may not be touched from above or pulled down (it can be touched at the bottom, as long as it does not interfere with the other teams' attack)

Games are not played until 25 points but rather according to time. One game will last 20 minutes and the team with the most points wins. In the end, wins and losses are counted.

No draws are possible, the team with the most points wins (this is uncommon at most tournaments, but we'll apply this method because of limited time).

Substitutions between players have to be made with the ref's consent, preferably when the game has stopped for a couple of seconds, for example when the ball is out, or a point has just been made

2 times outs allowed

Unsportsmanlike attitude will not be tolerated and will result in disqualification 

Players should bring: 

Min: 6

Max: 9

Mixed genders

Chess

Rules

Tournament format: round robin

One game is 20min (10min for each opponent)

Game ends at the end of the 20 min or by checkmate 

First opponent to run out of time loses

Unsportsmanlike attitude will not be tolerated and will result in disqualification

Min: 1

Max: 1

Dodgeball

Rules

Play will be 6 vs. 6. Teams must be mixed, with a minimum of 1 male and 1 female player at all times.

The objective is to eliminate all players of the opposing team by throwing game balls and hitting the opposing player.

Each game will consist of 3 sets of  5-minute.  At the end of the 5 minutes, the team with the most players still "in" wins. If a team eliminates the entire opposing team, they win the set.

No substitutions will be allowed once a game has started, except for injuries. 

Teams may substitute between sets and games.

Each team starts with 1 ball and then there are 5 balls evenly spread on the centerline at the beginning of each game. It is a sprint to the 5 balls once the play begins. There is a 5 second grace period after the initial rush before balls can be thrown

Each team member must start with one hand on their back wall. Play begins on the referees signal of "Go" and "Dodge" after the 5 second grace period after the initial rush

A player is out if:

They throw a ball that is caught by the other team

They get hit by a ball thrown by the other team (If the ball is thrown by the opposition and bounces off you, but is then caught by your teammate, then the opposition thrower is out)

 They cross the centerline

A player is not out if:

Their ball is caught off the wall or ceiling

If the ball bounces on the floor/wall/ceiling before touching you

If a player catches a ball thrown by the opposition, an eliminated team member may rejoin the game. Players return in the order they were eliminated.

It is not allowed to block a throw using another ball. If you are holding a ball and an opponent hits your ball, you are out (unless you or your team catches it before it hits the floor).

A player can only hold a ball for 15 seconds before throwing it.

Unsportsmanlike attitude will not be tolerated and will result in disqualification 

Min: 6

Max: 7

Mixed genders

Football Men/NB

Football

Women/NB

Will be played on Johan Cruijff fields so fake turf (similar to field hockey material)

The team with the most points wins their respective match

Win = 3 points, Draw = 1 point, Loss = 0 points

6v6 (includes goalkeeper) and the maximum is 9 players squad (so you can have 3 subs)

Will likely play on a grass field, so appropriate football shoes are recommended

No offside

Kick-ins instead of throw-ins (when getting the ball back into play)

1 referee per match

Game duration: 20 minutes (10 minutes per half)

2 minute half-time break

Stoppage time determined by the referee

Green card: 2 minute expulsion from the field and the game goes on in the form of 6v5

Yellow card: 5 minute expulsion from the field

Red card: Can be a straight red or after two yellow cards…permanent expulsion of the current game and the following game

Shin pads are mandatory for all players

Players should bring 

Min: 6

Max: 9

Basketball

Rules

Total game length will be 20 minutes, 2 times 10 and no time outs at all due to strict time schedule. In case of a draw at the end of regulation time, the game will go into a shootout

Time will NOT be stopped after a "dead ball" (if it is out, foul, etc.)

1 referee will be present for every match

Normal basketball rules apply: (no double dribbles, no traveling, etc.)

A backcourt violation can and will be called – Once the basketball crosses the center line and into the offensive zone, it's a violation for the offense to dribble or pass it into the backcourt. If they do so, the ball will go to the defending team

If a defender makes a violation when the other team is trying to score, the other team gets two foul shots (shooting foul). Non-shooting fouls will lead to the opposing team getting the ball on the sideline. Technical fouls can be given at the discretion of the referee. A technical foul is given for unsportsmanlike conduct

The teams will be mixed. There must always be 5 players on court of which 2 need to be girls (this is also how we play in the normal UC games)

Fouls lead to a point being awarded to the fouled team (in the interest of time, no foul shots will be awarded)

Min: 5

Max: 9

Mixed genders

Table Tennis

Rules

Games are played to 21 points. A game must be won by two points. 

Each side of the table alternates serving two points at a time. EXCEPTION: After tied 20-20 ("deuce"), service alternates at every point

If the ball bounces twice on the receiver's side, or the receiver fails to hit the ball after bouncing once on their side, a point is awarded to the opposition

Losing on a serve is possible

Serve balls must hit both sides of the table

A hit that touches the net on the way over is legitimate, but not when serving → replay the point

You cannot hit the ball before it bounces (no volleys). If your opponent hits a ball that sails over your end of the table without touching it and then hits you or your paddle, that is still your point

Touching the ball with your paddle hand is allowed

Touching the table with your non-paddle hand is not allowed

An "edge" ball bouncing off the horizontal table top surface is allowed

Leaning on the table to reach the ball is not allowed 

!! Games will not be played on regular sized tables

Players should bring 

Min: 1

Max: 1

Bouldering (Male and female)

Rules

Points are accumulated for each route that is completed. The climber with the highest accumulated score in their respective category wins

Climbers can attempt as many routes as they wish within the time frame given

Once a route has been completed, the climber can't attempt it again

If a climbers succeeds a route in one try, additional points will be attributed

Each route has a different level of difficulty and a unique point value corresponding to the level of difficulty

Competitors individually choose which routes to attempt

Points are gained only if the route is completed

Players should bring

Bouldering shoes (can be rented from USC if needed)

Min: 1

Max: 1

Tug of war




Rules

The tug of war will be 6v6, 

Two of both sexes need to be in the field at the same time

The referees will consist of players from other UC's

The rope should have a red mark in the middle, and on either side, a white mark 4m from the centre line

Players can line up behind this white mark

The game is won when the white mark crosses the centre point

The centre line should be marked on the playing zone → at the start, the red mark on the rope should align with this

Referee should announce when to pick up the rope,  and blow a whistle to signal the start of the tug of war

If a player falls, they are given a caution, and if a team has 2 cautions, they are disqualified

 

Min: 6

Max: 8

 

Mixed genders

 

Badminton 2 vs 2




Rules

Teams must be made up of 1 male and 1 female athlete.

Participants are expected to bring their own rackets.

All serves must be below the waist, and the racket head must be below the wrist — NO OVERHEAD SERVES

A match consists of 2 halves of 10min. 

The opponent with the most points wins the game. A 2-point lead is required

The server and receiver begin the rally by positioning themselves in diagonally opposite service courts.

A valid serve must be delivered diagonally across the court and over the net. Second serves are NOT allowed.

A point is scored when the shuttlecock lands inside the opponent's court. If the shuttlecock lands on the line, it is considered inside the court. 

After a point is won, the players will move to the opposite serving stations for the next point. 

A point is lost when the returned shuttlecock hits the net or lands outside of the court. 

A player is not able to touch the net with any part of their body or racket.

A player is not able to hit the shuttlecock twice.

Players should bring

 

Min: 2

Max: 2

 

Mixed genders
Cultural Activities
Cluster 2: Cultural
Location + Description

Dance

In the gym hall

The performance has a maximum of 5 minutes (and no minimum)

The groups must consist of a minimum of 2 and a maximum of 10 dancers

The dance performance will be on the gym hall floor

Use of props is NOT allowed.

The panel of judges will consist of 2-4 dancers that are not attending any UC

Extra points if theme incorporated

Cheering + mascot

In the gym hall

The mascot of each UC will be present throughout the day showing off their spirit and dance moves.

They are free to move and can support any team sports team

Possibly also one performance with cheer team

Points either via online survey (like last year) or jury

Painting

(max. 1 per UC)

In a classroom of the academic building

The participants are highly encouraged to incorporate the theme in their paintings.

Participants have 5 hours to finish their painting but are of course free to leave and watch other activities when finished earlier. As long as they come back for the exhibition at 16:00 in the classroom, before the time slot is over.

Any piece handed in after 16:00 will automatically be disqualified. No exceptions will be made to this rule.

In all cases of disqualification, the corresponding UC will be awarded 0 points

All art supplies have to stay in the located area. If pieces are missing, the corresponding UC team is responsible and will be held accountable.

In case of a competition-related emergency (e.g. broken or lost canvas), the participant should directly contact the person responsible for the painting competition (the chief at the painting activity). The emergencies will be assessed on a case-by-case basis. — No guarantee will be made on new purchases or additional time.

If a participant decides to purchase any additional material during the day, the costs will not be reimbursed.

Participants are allowed to look for inspiration on their phones.

Lunch break is at the discretion of the participant. No general lunch break is observed, you are allowed to eat in the painting area.

In case of plagiarism (directly copying an idea), the culprit will automatically be disqualified. The corresponding UC will be awarded 0 points.

Judges will be anonymously judging after the painting competition, they will not be watching the process and UC students will not be in the room when the judging takes place.

Paint will be provided and participants can bring their own painting equipment to use for 2 hours at the end of their painting 

Criteria 1: Skills & technique – use of given materials, composition, refinement & completion

Criteria 2: Communication of ideas & intention – composition/intentional placement, choice of colour

Criteria 3: Incorporation of the theme – originality & creativity, clarity of theme incorporation

Battle of the bands

(1 band per UC)

In Oerknal

At least one of the band members has to play an instrument, which has to be either a harmonic instrument (e.g. piano or guitar) or a rhythmic instrument (e.g. drums or tambourine).

Songs have a maximum time limit of 3 minutes. If a team exceeds this time, points will be deducted.

Extra points if theme incorporated

Battle of the boards

Outside on the grassfield

This event serves as a morale boost for all the participants, to get excited about the Tournament and competing against each other.

The UCSA Boards will compete against each other by playing three easy games (games t.b.d.).

This event will be organised by PlayUC

Improv

Outside/Inside the academic building

Multiple rounds of short improv games that will be judged by jury panel

This event will be organised by the OnStage

Film Festival

(1 film per UC)

In the academic building

No participant ticket needed but get a visitor ticket (for free)

Short film (3-25 mins)

Needs to be sent in 3 days before the tournament

Extra points for incorporating theme or inter-UC team spirit

Needs to be made by UC students  in 2022 or 2023

Debate: Trouble Speech

(max. 1 per UC)

In the academic building

The speaker will have to verbally maintain himself in an imaginary, almost impossible situation by using argumentation
Overview of Social Activities (no points)
Cluster 3: Social
Location + Description

Yoga

Outside on the grassfield.

The committee ZEN will organise yoga workshops in the main area.

Speed dating

Outside on the grassfield.

This activity will be organised by Peersupport. Speed dating involves a two minute conversation with a stranger. Participants sit in pairs across from each other, forming two lines. The moderators announce a topic or question that will then be discussed in pairs. When the two minutes run out, one person of the pair moves to the left, while the other stays seated.

Pub Quiz

In Oerknal.

This activity will be organised by PubQuiz.  Everyone can participate and try to give correct answers to the most questions as quickly as possible. We will encourage the formation of teams with people from different UC's to stimulate inter-UC bonding and cooperation.

Tea time lounge

Outside on the grassfield.

The committee ZEN will create a lounge area where you can relax, make new friends, and enjoy a cup of tea. 

Spike Ball

Outside on the grassfield.

We will put down a number of 'spike ball' games that can be freely enjoyed throughout the day.

Frisbee

Outside on the grassfield.

We will provide a frisbee that people can play with throughout the day.

Fair-play + other trophees

We value the presence and efforts of everybody so points will be awarded for participation and fair play during the games. This is a way to ensure that UCs who don't make it to the top 3 still get awarded for bringing in participants and getting involved in the tournament ! At the start of the tournament, we will announce there will be a fair play trophy, which will be awarded during the prize ceremony.
Planning of the day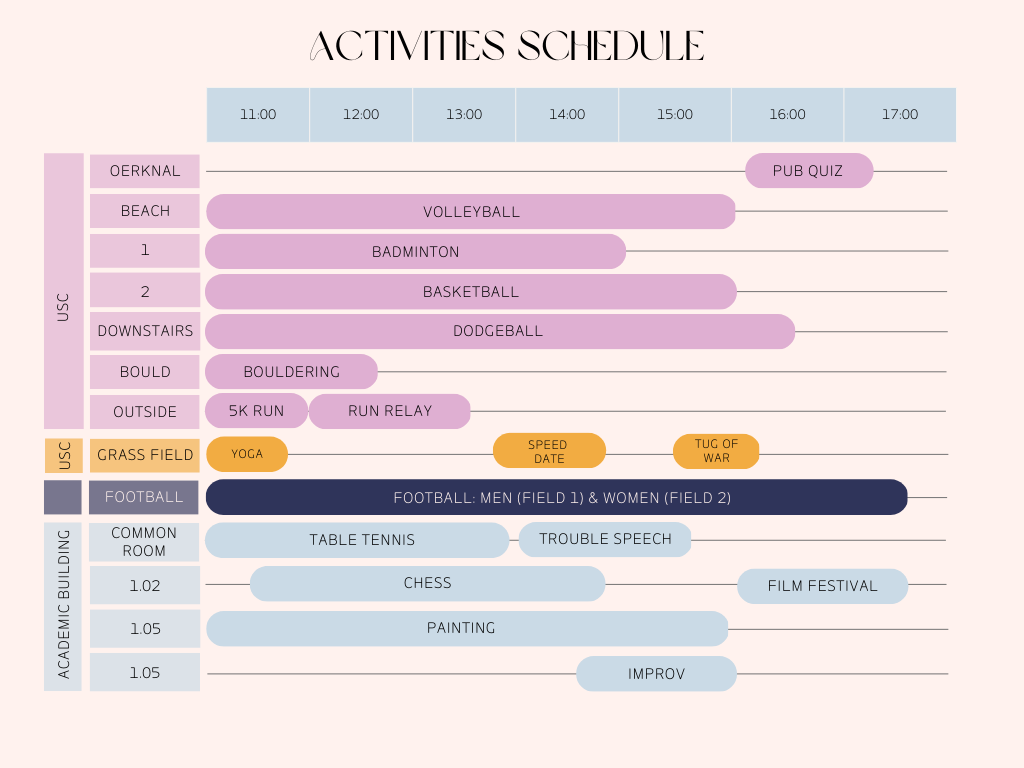 Transport & Contact
Contact Details
Below you can find our contact details. Feel free to contact us if you have any questions regarding the events, party, venues, or other concerns!
Transport
There are various ways to travel to the campus of Amsterdam University College and to the USC Gym and Oerknal.
Public Transport
All the tournament locations are easily accessible by public transportation. The train station Amsterdam Science Park is a 4 minute walk away from the AUC academic building, an 8 minute walk away from Oerknal and the USC gym, and a 6 minute walk away from the student dorms. There are frequent trains (about 5 per hour) between Amsterdam Central Station and the Science Park Station that take only 8 minutes. To plan your journey efficiently, please go to the NS website.  When coming from Amsterdam Central Station, there are plenty of other options to reach the tournament locations by tram, bus, or metro. There are multiple bus stations located on Science Park, all served by bus line 40.
Bike
From Amsterdam Central Station to campus by bike takes about 20 minutes. Students can get an OV bike for a day if they wish as this is an easy way of transport and also allows students to explore the city. Check this website for more information.
If arriving by bicycle, there are multiple bike racks located near the AUC building. Just before the bridge to the entrance of AUC are dedicated spaces for bicycle parking. The next two nearest spaces are across the street at the Carolina MacGillavrylaan (in front of the SPAR) and across the street of Science Park (next to the bus station "Science Park Aer").  
Touring bus
USC cannot provide a parking space for tour buses. There have been examples of participants parking tour buses on the streets near USC, however, in that case, we cannot take responsibility for that.
Car
We encourage you to come by public transportation as (paid) parking is very limited. If you must arrive by car, we would advise you to use the car park entrance at the Carolina MacGillavrylaan between AMOLF and Nikhef (see the link below for more detailed instructions and a map). Please be aware that the gates to Science Park parking lots closest to AUC (all designated with P1 on the map here) close at 19.00. There are also parking lots at Science Park that do not close at 19.00 (P3 and P7 on the map here). You can find more information on the fees for parking at Science Park via the link below.
Another parking option is on the Carolina MacGillavrylaan close to the student dorms. Here, you can park for a price of 4.50 EUR per hour from Monday to Saturday between 9.00 and 21.00. You can also park in the parking lots of the student dorms using ParkBee. There are only limited spots available, but the tariff for parking here is 3.15 EUR per hour. More information about parking here can be found on the ParkBee website. 
Please find the Amsterdam Science Park visitor map here. 
FAQ
Do you still have questions after reading our website? Hopefully, you find your answers here! If your question is not answered in this section, feel free to contact us through email (ucsrn@aucsa.nl) or Instagram (@ucsrntournament2023).
Am I allowed to bring my own drinks to the after-party?
No, this is not allowed. Drinks can be purchased inside the bar!
We will try our best to provide housing for everybody who signed up, however, this is obviously possible to a certain extent. We will notify you as soon as possible if housing is available to you or not. Please keep in mind that priority is granted to students from the furthest University Colleges (UCG, UCR, UCTwente, UCF, and UCM) and that hosting spots are available on a first come first served basis.
As an AUC student, do I also need to purchase an after party ticket?
Yes. This way we can make sure the event runs smoothly, as we will know how many people will attend. The party ticket is on a first come first served basis because there is a maximum capacity at the bar.
Do I need to sign up as a visitor?
Yes, you can buy a free visitor ticket on our Eventbrite page through the ticket button at the top of this page. Upon your arrival at the tournament, please come collect a visitor bracelet at the check-in desk so you can be allowed access to the sports facilities.
The organisation of the tournament cannot provide refunds for bought tickets. If you can no longer attend the tournament, it is possible to sell your (participant) ticket to another student. Please reach out to us when this is the case so we can update the participant information in our system.
Sports Events
Overview of all the sports events:
Badminton

Basketball 

Chess 

Climbing – Bouldering Men

Climbing – Bouldering Women

Dodgeball

Football Men

Football Women

Running 5k Men

Running 5k Women

Running Relay 

Table Tennis

Tug of War 

Volleyball
More information coming soon!
Cultural Events
Overview of all the cultural events:
Battle of the Bands
Battle of the Boards
Cheering and Mascot Competition
Dance
Debate
Film Festival
Improv
Painting
More information coming soon!
Social Events
More information coming soon!